tuesday: february 5th
so today is a "switcheroo" day. i taught at the store (treasury) last week which means i should have this tuesday "off" but the other teacher is amy and her little guy, maxwell, was exposed to the whooping cough, so they're in some isolation for awhile while max takes some antibiotics. so i got a pretty frantic call today and thankfully, i am now Elizabeth's (the owner of Treasury… and twin sister of Amy) best friend because i can fill in tomorrow (thanks to my wonderful baby sitter – dave's mom!). so glad i can help you out, E! and get this…. despite the fact that i often blame davey for helping me LOSE MY MIND, my brain was actually in-tact today when i talked with Elizabeth b/c i made a genius suggestion about tomorrow's class which saved her so much time and energy. wow. i'm still pretty proud of myself for actually having an "i feel smart" moment – there sure aren't many of those these days! so the "switcheroo" title of this post simply states that i'm teaching tomorrow. and maybe or maybe not next week (i could do stamp of the month next week, amy, if you need me too)!
in other news, we had a bit of sun (and snow) last week, which was so refreshing. God always seems to know when people just can't hack one more day of rain out here (or sometimes just grey, sunless sky without rain)… and then He provides us with a day or two of sun. and those days are something we really try to take advantage of in this area. especially in the winter b/c you don't know when you'll get another nice day! so on saturday, dave took a break from work and we bundled up davey and went for a walk. turned out it was colder than we expected. thankfully, though, davey was pretty warm – a onesie, a little fleece sweats outfit, his cuddly bear pram outfit and two blankets! and for the first time, he rode in his stroller and NOT in his car seat in the stroller. yep. we've had a lot of "firsts" lately. but i guess the sunshine, the cold air, the "bundling" and the walk were all too much for davey, so he fell asleep: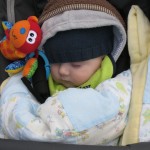 and i can't remember if it was that morning or if it was after our walk, but i decided to do some laundry. and the best way to carry that AND davey downstairs was to turn him into a little laundry stowaway: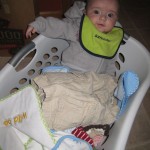 just before i took this photo, his right arm was simply "resting" on the rim of the laundry basket. it was so cute… like he KNEW he was really cool.
i tell ya, this kid… as much as he can frustrate me… totally cracks me up!!