monday: february 11th
davey loves his exersaucer.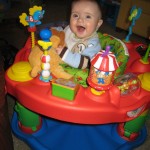 only i think it needs a new name. the "poopersaucer," perhaps? yep. just about anytime i put him into the thing, he poops. well, maybe not every time i put him in it, but just about every time i put him in it when he's constipated. it's like magic. i haven't even needed to try to take him to auntie megan's house yet for constipation problems… i just put him in his magic saucer and about 5-10 minutes later i need to change his diaper. one problem with it, however, is all the poo squishes up and tends to spill out over the top of his diaper. gross. but at least i don't have to hold him while he's poo'ing!
and now on to a not-so-smelly topic….
last night, i hoped to create one book for the pending craft show. instead, i finished THREE! yep. three. AND i got two coats of paint on my large canvas project for the store (still waiting for today's mail – hopefully the photos i need for the project will be in the mailbox)! yep. it was a productive evening for me. my goal for the craft show is to complete at least 20 albums (10 boy and 10 girl) and a LOT of cards.
edited to add: the photos are here! the photos are here! i can't wait to put this project together – i promise to add a photo to the blog once it's complete!