thursday: february 7
running… davey's eyes and nose, that is. poor little guy either has a cold or is in the "popping through" process of getting his other 6-month tooth. or it could be both, i guess!
despite his cold, he had a pretty good day yesterday hanging out at home with mama. though the highlight of the day was when davey and daddy got to spend some time together after dinner. daddy's been very, VERY busy lately and i KNOW he's missed his time playing with davey. davey was very cooperative for daddy – he talked and smiled and laughed and had a great time running his hand through daddy's goatee (see the photos above)!
and the reason i'm thinking he has a cold AND is teething is based on this photo: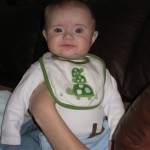 this funny face is from him playing with his tongue on his gums while keeping his mouth closed. and this is the face i saw before his first tooth popped through. so i'm pretty convinced we'll be able to feel TWO teeth very soon. but you can also see his left eye is very "shiny" from extra water. he tends to have watery eyes with a cold (just like mama!) so i'm thinking he's got a double whammy right now. poor kid! i love you, peasie!