monday: february 4th
i've started (and deleted) about 3 entries since my last one. but since you're reading this one, i obviously kept it. not because it's "better written" than the others. but probably because i need to just post SOMETHING and keep moving forward.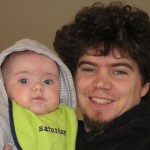 thanks for all your encouragement, stories, thoughts and prayers since last friday. grandma came over and took davey home with her for the afternoon and evening. i needed that break. big time. then saturday and sunday were pretty good (not necessarily great naps, but i just seemed to *handle* it better). but today was another rough one. so it's only 8 p.m. and he's already down for the night. and he went down without a fuss. i can't say that about his 6 o'clock nap… i really had to work for that one (took me about 90 minutes to get him to sleep and i finally resorted to "swinging him" in his car seat and then rocking/gliding him – still in his car seat – on the gliding ottoman. and then i moved him IN his car seat to his crib. i was NOT going to take the chance on having him wake up as i moved him to his crib for his nap). but i digress….
even though he's having a rough time napping these days, he's still SO FUN and CUTE. he's really been exerting some independence and he's got a few new *tricks* up his sleeves these days. yesterday and today he's been "nuzzling" his head in people's chests (or armpit areas)…. he did it a few time with me, with dave and with grandpa. not just because he's tired (though that's when he does it), but you can tell he is VOLUNTARILY "cuddling" with people. and i am SO GLAD b/c he's been on an anti-cuddle kick lately. and i'm a cuddler!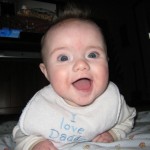 (Sarah – doesn't his smile/mouth make you think of MaryKate? I would LOVE to see those two in a photo together… it'd be the cutest thing EVER)!!!
he's also learning how to sit up all by himself. i put him down on the floor in the church nursery on sunday to help clean up and without paying attention to what i was doing, i moved away and he stayed there! he sat up all by himself. i was shocked once i realized what he was doing… and what i had done! and he's been practicing sitting ever since. he still wants to stand a lot, but now that he can sit and reach for things (another milestone!) he's a bit more likely to sit instead of stand. thankfully! our arms get pretty tired of holding him upright all the time!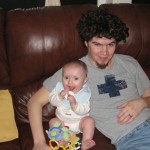 last night, he ate an ENTIRE CONTAINER of sweet potatoes. and tonight, an ENTIRE CONTAINER of carrots. he just kept opening his mouth for more. it was so cute! and also a relief b/c he had been on an anti-food kick for about a week or so (no rice cereal, no baby food - formula… and LOTS of it)… but now we're back in action.
this weekend we invented a new game. it's called "mama gets to lay (lie?) on the couch while davey stands on her left knee and/or leg and look over the back of the couch like a big boy." long title, i know. but it's pretty cute. he'll look back and down at me and give me these HUGE grins (like the one in the photo above). it's like he KNOWS he's doing something that only "big boys" can do and he's cool because he's doing it too.
let's see, what else can i tell you about davey…. he's more alert. more aware of those around him. he MAY be at the beginning stages of separation anxiety. he's been in the church nursery for about a month now and everyone seems to LOVE him (though they all have to comment on how much he spits up - i know. i know. he's 6 months old. trust me, i know my child is a spitter that's why i tell you that every sunday)!
and i think that's enough for now. have a great day!!