monday: february 18th
just a lot of work going on in our house. dave is swamped until march 10th or so. and davey and i are doing what we can around the house to make life outside of work as easy for daddy as possible. it's a tough time for us, but we seem to be pulling through. i did have an emotional break-down on friday night about it. but that was my weakest moment and i'm back to holding down the fort (though not in my own strength). i keep reminding myself that "this is a season" and we will be on the other side of this situation sooner rather than later. sometimes life is hard. really hard. and you have to work through it. but it's through these difficult times that we show our true colors. do we rely on ourselves or on Christ? are we faithful in the small things? do we pray? do we practice what we preach? so we still covet your prayers. it's gonna be a long couple of weeks.
and on another topic, two new photos from late last week: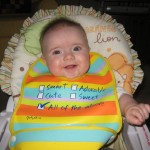 this is one of davey's new bibs. i got tired of staining his material bibs orange (thanks to oh so yummy and messy sweet potatoes, squash and carrots). so i pulled out his plastic-backed bibs…. same thing: stained the front fabric. so we're now loving all plastic bibs for mealtime (at least twice a day)… this one is HUGE but will be great when davey is able to eat other foods, especially those that generate a lot of crumbs… it's got it's own crumb-catcher – way better than the other plastic bibs with a plastic pocket that never really catches any of the food! thanks, taya, for sharing that these bibs really do work! :)
speaking of food, davey is now eating FRUITS as well as veggies. and he'll once again eat oatmeal, so his diet is getting some variety with the following foods:
rice cereal, oatmeal, sweet potatoes, squash, carrots, green beans, pears, bananas and peaches (we haven't yet tried applesauce, prunes or peas)
he's still not a fan of cheerios (when i feed him one, he likes to act like there's a hair ball in his throat.he does the same "hair ball" hack when i feed him a sweet potato puff, too). he has eaten several goldfish crackers (cheddar flavor) and some animal crackers (from wally world – stauffers brand, i believe?). he does get to eat various parts and kinds of potatoes from mama & daddy's plates, too, though we don't eat potatoes a whole lot in our house (sorry – i'm just not really a fan!).
what a fun adventure this "WORLD OF FOOD" has been thus far!
and i found a new winter hat for davey on clearance at Target ($1.24):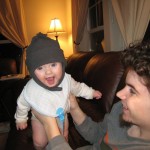 it's supposed to be a 2T-5T size, so we'll see if he can wear it next year or not. i love it, though. and i think he's pretty happy with it. i know he's lookin' darn cute in it! :)
we'll hopefully take his 7-month photo (he turned 7 months old last friday the 15th) tomorrow and then i'll post the picture with a list of "davey at 7 months."