tuesday: february 19th
wow. it's ANOTHER sunny day here. we went for a walk with carrilee & henry. just a short walk over to bender fields for a chance for henry to play at the little playground. and since i had bundled davey up to be nice and warm, we were able to SWING AND ride the SLIDE today…. SO FUN!!!
henry had fun helping davey swing. he doesn't quite grasp the concept of "pushing" yet (he likes to push but walk/run with the swing so it tends to come back and hit him in the face and knock him over), but i think he'll make a great big brother in july! i'll let him continue to practice his "big brother skills" on davey!
we went down two slides together… this spiral one and a "tube" one. the tube one was freakin' fast and a wee bit scary since it's dark in there. i can't remember the last time i was on a slide… i'm looking forward to years of sliding now! :)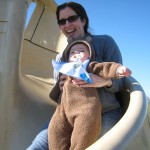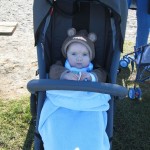 see? i got him all bundled up in his little teddy bear "pram" suit today and it was PERFECT. i didn't feel a need to keep him strapped in his stroller and covered with a blanket b/c he was warm enough in his bear suit.
all this fun and it's only early afternoon! we may actually go for ANOTHER walk this afternoon! hey, when the sun is shining here in western WA in the winter, you HAVE to take advantage of it!
BONUS: here's a photo of davey and daddy on our walk yesterday: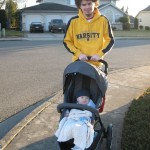 (side note: even though i have zero photos of davey smiling today at the park, he DID enjoy it. he was pretty sleepy and he fell asleep for the walk home from the park.)