these were the valentine's day presents for grandpa and grandma: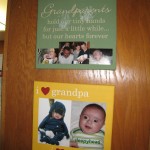 those little "blobs" on the green canvas under the quote are davey's handprints. he wasn't too cooperative, but dave and i managed to get MOST of his hand prints on there!
and my great big apologies for not taking a photo of nana's valentine's day gift before we sent it to her. it was a cute mini book full of photos of davey wearing clothing purchased by nana! and i think it's the right size that she can fit it in her suitcase on her trip to kenya (less than a week until she leaves, i think)!