wednesday: february 27th
dave, davey and i went for a walk on saturday… davey wasn't ready to give up his "biter biscuit" even though those things make a BIG MESS, it sat on his bib for our entire ride… even after he fell asleep! (we sure are getting a lot of use out of that teddy bear suit)!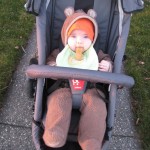 and davey has a new (fun) and tasty food to enjoy…. CHEERIOS!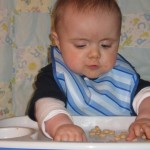 yes! we no longer experience the "hacking up a hairball" experience every time a cheerio is placed in his mouth! he seems to really enjoy these treats and they're a really good distraction when i'm trying to get his food ready!
on monday we took a trip down to everett to meet the newest babies in our church family. the spoelstra boys were born on saturday, february 16th. they were five weeks early and their lungs weren't fully functional yet, so they were air flighted from bellingham to everett shortly after they were born. just nine days later (this past monday), they were off all ivs, tubes, breathing apparatus, etc. little Lincoln and Ethan are doing well and are likely heading home soon. here's a picture of Ethan (being fed) and Lincoln (with his eyes slightly open)
and after our fun adventure down south, davey got to hang out with grandpa and grandma (and mama) for a little while. cute bibs, huh? and davey seems to like his walker a bit more now that grandpa added a wooden board underneath so davey's feet can reach the "floor."
that's all for today!