wednesday: february 13
here's davey after waking up and eating: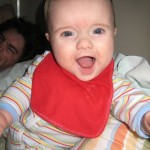 he gets to hang out in bed with daddy & mama before he goes back to sleep in his own crib. (cute pjs, huh shelly? they're gettin' a little snug!)
today davey and i went on an international adventure with carrilee and henry. it was such a beautiful day that we had to get out and enjoy the sunshine and the 44+ degree weather! we started out with a trip to marine park in blaine where we played a little and ate lunch:
davey demonstrated his walking skills for carrilee & henry and henry was a good helper with davey. he (henry) said "UH OH!" pretty frequently… especially anytime davey's binky was NOT in his mouth! he really enjoyed helping to put davey's binky in his mouth. and hug him. kiss him. hold his hand. help him walk. yep. such a good little helper: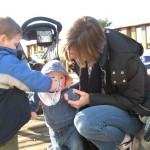 and when davey couldn't walk fast enough for henry to continue to want to help, he pulled the wagon around: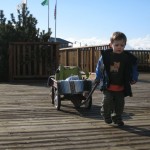 after marine park, we drove to a nearby playground and then we walked over to the peace arch. and then we walked THROUGH the peace arch, which means we actually walked from the USA to Canada (and then back again):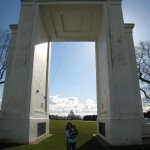 (we're in canada with the USA behind us).
so it was a very fun, full morning. and then when daddy came home from work, davey lit up like a christmas tree. happy. excited. and he couldn't wait to love on daddy! they played with davey's little learn 'n drive toy (which is kind of obnoxious!) and we video taped davey laughing tonight. i love his little giggle!

so today was davey's first time out of the USA. thankfully we didn't need passports or his birth certificate or anything. it's kinda of fun to go to the peace arch border and "go into canada" without really going into canada, ya know? okay. maybe you don't know. but it is. pretty cool. so if you ever come visit, we'll take you there. so you can go to canada without really having to go to canada! :)