thursday: february 28th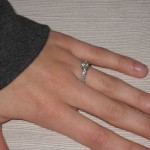 yep. engaged. no, not me (i'm already married, silly people)! jeff. jeef-man. jeffy. my "little" (though much taller) brother-in-law is engaged!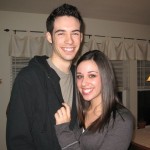 congratulations to jeff and taryn! they're planning a wedding for 2009, so davey will be able to walk by then (won't he be a DARLING ring bearer?). and even though she's canadian, we still like her!

love you guys!
so we had a family celebration at our house last night (the actual "getting engaged event" occurred on tuesday night) – dinner with the four of us (and davey) and then dessert (rootbeer floats – a dunkin tradition – and girl scout thin mint cookie ice cream – YUMMMMM!) with dad & mom. and i didn't work on one project. nothing for the craft fair and not my cards for tuesday card class next week. oops! hopefully davey will cooperate (i.e. a long nap) so i can get them done this morning!