tuesday: february 12
today was a good day. davey took a TWO HOUR nap this morning. wow. then he went to grandma's and i got to go shopping…. ALL BY MYSELF! i visited 8 stores in less than 4 hours. and i was NOT at the mall! i didn't stay in some of the stores very long – just a quick trip in and back out after finding they did NOT have what i was looking for (random items). i stayed the longest at walmart and ross. at ross, i tried on TWENTY-FOUR (24) shirts. yep. i have birthday money burning a hole in my pocket and a need for some new, cute shirts. so after trying on 24 shirts (plus 2 pairs of jeans and 1 skirt), i walked out the door with 3 shirts for $35. they were my "definitely" pile. there were another 6 shirts in my "maybe" pile. but as i was walking from the back of the store to the front, i realized my closet does not need anymore "maybe" clothing… it only needs "definitely yes" clothing. so i still have birthday money left!!
at treasury, i finished and dropped off my canvas project i was hinting at yesterday. wanna see it? it's an odd angle on the photo because i wasn't really trying all that hard to get a good shot…. but here it is: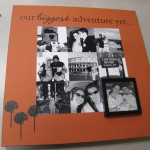 pretty cool, huh? it's a 24×24 (i.e.: pretty large) canvas painted with a color called "nutmeg" (the sides are painted black). i had 9 photos printed size 5×5 and in black and white. one photo (of us as parents) is framed. add a vinyl phrase and some vinyl dandelions and there you have it…. super cute (and personalized) art! we're all about canvas at the store these days and this was such a fun and easy project!
and then tonight, davey's bottle accidentally fell down by his feet while he was sitting in his rocking chair. (side note: his rocking chair is actually part of his swing that he never liked, but the chair comes out to be used as a separate seat and it works well for feeding him when i don't want to sit at the table). so he used his feet to push the bottle up towards his hands. then he actually got the nipple into his mouth! yep. he is learning foot-hand-eye coordination! here he is with his prize: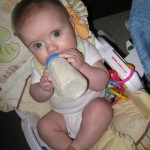 after his dinner of carrots, green beans and formula, davey got to play with daddy while i cleaned the kitchen. davey played with his musical table from uncle john & aunt babi and then the boys were playing together near the music table. dave was lying on his back on the ground. he was holding davey upright and with ZERO PROMPTING, davey started walking (still being held by daddy) to his music table! YES, FOLKS, I AM SERIOUS! (davey actually took some steps last night while dave was standing up and holding onto davey's hands/arms – turns out grandpa's been helping davey learn how to walk that way!)!
so my child who is not yet 7 months old…. who cannot (well, chooses not to) roll over…. who cannot crawl in any fashion…. who still does not like to be on his tummy…. who still wears his 3-6 month clothing…. who only has one tooth…. who hasn't even eaten any baby food fruits yet…. my child can walk (with assistance). I AM BLOWN AWAY!