Sunday: January 27
So most of this week we've had BEAUTIFUL, COLD, SUNNY weather. it's been WONDERFUL to have the sun shining and i'll take it with the cold weather over a gloomy, rainy day anytime. I'd been wanting to get outside in the fresh air for a walk all week. Carrilee and I tried with the boys on Wednesday when we were in Bellingham, but Davey protested when I didn't have him dressed warmly enough (he wasn't interested in staying in his carrier covered in the warm blankets i brought so instead he was in the baby bjorn without any "extra" layers) so we gave up and ran our errands instead.
But on Friday morning, Davey and I got PROPERLY dressed (well, i forgot gloves for myself) and headed out on a walk to Bender Fields to meet up with Carrilee and Henry. We had a surprise for us – Trisha & Joshua were there, too! Davey was all bundled up this time… in an outfit then in his cuddly teddy bear "pram suit" from Carter's and covered up with a really warm blanket (a quilt that belonged to Dave when he was a baby). And after letting Henry run around for awhile at the playground, we set off on a walk (all 6 of us). It was WONDERFUL to get out in the sunshine. the fresh air. the exercise. the amazing company. yep. it was GRAND.
so here are a few photos of davey after we got home:
and then he had fun (as always), playing with his borrowed activity gym: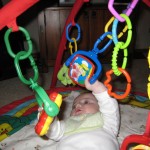 yesterday morning, i attended a baby shower for twin boys. they're due to arrive soon (official due date is march 15th but barb is expected to have them in mid-february). it was a long shower, but it was so much fun! and after getting home (a little later than expected), it started snowing! yep. SNOWING. it started kinda slow and then picked up REALLY quickly. i think there was 1/2 an inch to an inch after only 30 minutes. it was BEAUTIFUL. but then it stopped. :( i'm still waiting for our one BIG snowstorm this season… i want to take davey out in it (we have a little snowsuit from henry that we're borrowing) to see what he thinks of actually PLAYING in it. hopefully soon.
and then in the late afternoon we tried really hard to convince davey to roll over again. he's still not interested (i've been working with him for the past few days, actually):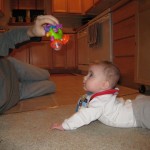 but at least he's pretty cute when he's staring at us like we're absolutely crazy!!! :)