wednesday: january 9th
so on friday night, we had a few friends over. initially the invite was to play games and hang out, but with two toddlers running around (emma and henry), no games were played by the adults. but we did enjoy some yummy (and oh-so-fattening) sticky buns (made by brandi). it was a fun chance for us to try to get a few new photos of davey and jaden, who seem to always be on opposite schedules when they're in the same room (i.e. one is sleeping and the other is awake… one is fussy and one is happy…).
i can't believe HOW BIG these boys are getting! davey is almost 6 months old and jaden is (now) 4 months. pretty cute, eh?!
and then on saturday morning, though davey woke us up earlier than we wanted, it wasn't too early. and davey and daddy had a good time playing… this happy baby photo proves it!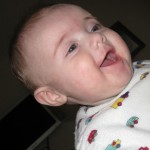 then on sunday and monday, we spent all day at grandpa & grandma's house hanging out with the family (enjoying grandpa's final vacation days) and spending as much time with uncle tom as possible. davey has a special chair to enjoy at grandpa & grandma's house (it's a hand-me-down to grandma from someone in our church). davey really enjoys the lights and the hanging toys. you've seen photos of him sitting in the chair before, but never from this angle: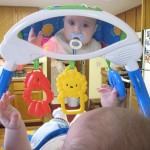 it was so cute. he could hear my voice but i'm not sure if he could see me in the mirror or not. i think not, because he looked so confused! poor kid! the only thing he hates about the chair is being strapped in. and can you blame him? do YOU like to be strapped into seats (like in the car or on an airplane)?!