thursday: january 3rd 2008
what could be better than starting a new year off by playing with a new toy? davey received this super cute, super cool, rocking caterpillar (instead of a rocking horse) from his nana for Christmas. when she was here just a short while after davey's birth, we were out shopping at some discount stores and found this gem at Tuesday Morning. i wanted to buy it for davey, but knew it was just a fun toy, not a necessity. so nana bought it for him for Christmas. so i "hid" it for months (meaning i simply put it into the guest room – he's only a few months old, he doesn't know any different!) and then pulled it out to put it under the tree on Christmas. yesterday was the first day we got to use it… and low and behold, this kid can sit on it unassisted! he truly is a BIG BOY!
and as you can see by the photos, he likes it.
and before i forget, here's a photo of the Gottathink/Pogozone owners and their wives: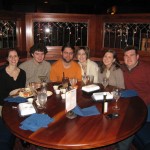 We had our annual Christmas dinner at The Keg (a yummy steak and seafood restaurant) a little late this year (it was on Tuesday night) but still an evening of fun & good food none-the-less. from left to right: Tam, Dave, Tim, Carrilee, Sarah & Reid. Did I remember to mention that carrilee is pregnant w/ baby #2? yep. and her due date? davey's birthday: july 15!