tuesday: january 8th
sorry. we've been out of the house a lot lately. tom leaves for spain today. more on that later. here are some funny face photos of everyone's favorite baby davey!!
and this is what i call davey's "please mama, please let me help put the bottle in my mouth all by myself" face: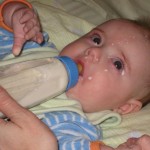 yes. yes, that IS milk all over his face. and he didn't mind it one bit. so long as that bottle got into his mouth with his assistance!
and right now, the little guy is talking up quite a storm to his toys. so i'd better go enjoy it!