sunday: january 20th
thank you to everyone who wished me a happy birthday and who offered lotion/hand-care suggestions. i'll be going shopping this week and i plan to start trying your suggestions until one works for me! :) and here's a self-taken photo of dave and i at the bowling alley last night (our adventure after a yummy BBQ dinner at Speak EZs):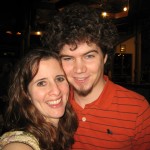 now, on to the title of today's post….
it's so nice to be able to put davey into the nursery at church. no stranger anxiety for him yet, and for that, i am thankful. it's nice to be able to actually listen to the sermon. or participate in the worship (singing). but it's today's sermon i want to talk about.
I AM GOD'S MASTERPIECE. that was one of delaine's "supporting comments" to one of his key points (the whole sermon today was on Ephesians 2:10). but i don't know if it's how delaine said it. or how i was listening. but that line really resonated with me. I am God's masterpiece. i'm pretty well traveled for a 30-something (tee hee – you thought i might actually tell you my age?!) year old female. and i've been to italy twice now to admire the beauty of not only the buildings, but some of the AMAZING works of Michelangelo (the Sistine Chapel ceiling, David, Moses, etc.). I've been to the louvre in paris and have seen da vinci's Mona Lisa. I've seen one of the seven ancient wonders of the world – the Pyramids at Giza (Cairo, Egypt). And in my own yard, I've seen daisies and ladybugs. I've seen white fluffy clouds and a rainbow.
and despite the beauty of those things (and more), I AM GOD'S MASTERPIECE.
talk about the best sermon to hear to pull you out of a "funk" (like the one i've been wallowing in lately). there's no reason to be down on myself. no reason to be frustrated with myself. my life. my time. instead, i need to fill my head with amazing, encouraging and wonderful things like "I AM GOD'S MASTERPIECE."
seriously. how can i be down on myself when i realize that? so today is a new day. today, and every day for the rest of this month, i will tell myself that I AM GOD'S MASTERPIECE. oh, i know i still have flaws. i know i still sin. but i am beautiful. i was created by the same God who made heaven and earth. the flowers and the trees. the grass and the fields. the ocean and the mountains (especially the ones all covered in snow this time of the year!). all the beauty in nature that is around me – that i LOVE so much… is nothing in comparison to how God felt when He made me.
and that is my soapbox message (second hand from delaine, of course) for today!