wednesday: january 2nd
i'm still in shock that it's 2008 already, but i won't bore you with my continual exclamations of "where did the last half of 2007 go?!" instead, we'll move forward and focus on fun things. or mundane things. at least things.
before i forget, i DID choose some PIF contest winners yesterday. i wrote your names on pieces of paper. folded them up. and randomly drew two names. the winners are: KELSEY and SARAH! woo hoo! i'm currently working on some fun goodies for each of you. i SHOULD have done that yesterday while i was a "bad girl" and spent hours in my scrap space rather than doing laundry, dishes, dusting and other not-so-fun activities. but instead, i spent the day focusing on projects just for me. i made three scrapbook layouts (perhaps 4?) and i started a mini album of my church baby shower. so fun! even though i had a boy, since i was the focus of the gift opening for the shower, and since i wore a pink shirt that night, i used PINK papers! gasp! tee hee! gotta do something a little girlie every now and then, especially since i've got my two boys now: dave and davey. but i digress: your packages will (hopefully) be ready to mail out next week Monday. yippee! and once you receive your winnings, you are to post a PIF (Pay It Forward) contest on YOUR blog and choose two winners at random and send them some fun little goodies. deal? cool!
Here's darling Davey inspecting our Christmas tree with daddy: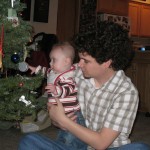 He's still battling a pretty rough cough (I held him for almost an hour last night, trying to get him into a sound sleep so I could lay him back in his crib) but he's having a pretty good day today. Lots of smiles. Just wait 'til you see the cute photos I post of him tomorrow! :)
For now, however, I have to get back to the laundry (3 loads), the dishes and whatever other household chores I choose to do today to try to reclaim my home!