saturday: january 12th
on wednesday night, since it was one of the few nights that dave would be home together for dinner during the week, i made a turkey dinner for us. turkey, stuffing, gravy, mashed potatoes, corn, etc. we had LOTS of extra food so we invited dad & mom to join us (linda actually made the mashed potatoes). davey was not the cooperative little napper i expected him to be, so for awhile he joined us at the table in his little seat. he was pretty darn proud of himself for sitting at the table with the grown-ups… you could see it in his face, though this photo didn't quite capture that look!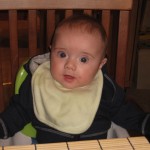 last night was SO MUCH FUN! the mommies in our play group decided to go out to dinner to celebrate Sara's birthday b/c her husband had to work. so we all left our kids at home and headed out for an evening of laughter and yummy food. there were 15 of us. yep. crazy, eh?! 15 of us at black angus in bellingham.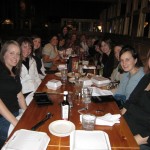 and then a carload of us decided to have fun at walmart….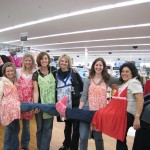 (and now i'm in trouble for posting this photo on my blog!)
poor linda. we had only been in wally world for about 10 minutes (max) before she said "these are NOT four hour shoes." so we wandered over to the shoe section where she found fuzzy pink slippers for only $3… off came her shoes and on went the slippers (which she even wore through the parking lot)! i think i spent the least amount of money in the store – less than $10 and all of that was for davey – two onesies and an "I love my mommy" bib).
after our adventure in the land of walmart, we returned to sara's house to get our vehicles and four of us (aside from myself, i will not incriminate my friends) went to get a drink. i got home around 1 a.m., i believe. and then was up at 5 a.m. with davey who was coughing like crazy… and then was so hungry he had to eat before returning to bed a little before 6 a.m.
the one nice thing about davey's early morning feeding, though, was he let me sleep until about 9 a.m. this morning. ahhhh…. that never happens anymore! and then, DAVEY ROLLED OVER.TUMMY TO BACK. SEVERAL TIMES. yep. a monumental day here in the dunkin household. (then again, i just tried to get him to roll over and he was not at all interested)!
davey and i headed to the mall today (what was i thinking…. the mall on a saturday?) to partake of the BIG old navy clearance sale (an additional 50% off all clearance items). i won't tell you how much i spent (shhh… it's a secret!) but i bought a LOT of clothing for davey (6-12 months, 12-18 months and even two items size 18-24 months), a few things for my friend Christy's baby girl, due to arrive in April and quite a few things for my friend Barb's twin boys, due to arrive in about 5 weeks! i simply couldn't pass up jeans and pants for $3.50 a pair! you know me – i'm a sucker for a good deal!
so right now, we're all at home, relaxing before heading out to a new BBQ restaurant here in town for dinner with our friends Justin, Brandi and Emma (Jaden's going to his grandma's house).