wednesday: january 23rd
my davey is a cutie patootie… in case you didn't already know that, i thought i would tell you!! :)
here he is (on saturday), sitting up (by leaning against the corner of his pack 'n play), reaching forward to play with his elephant!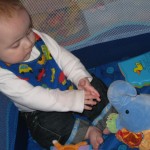 and here he is with grandpa on sunday…. watching football: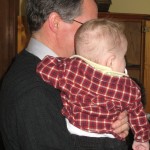 he just looks so "grown up" in his plaid, flannel shirt (thanks to sara for that!) with his arm bent and his elbow resting on grandpa's shoulder.
and here's a glimpse at the cover of my birthday gift from dave (the dunkins – 2007 – volume 6):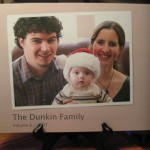 and if you've never seen any of the other books i've received (usually for Christmas), here's a glimpse at the cover of volume 5: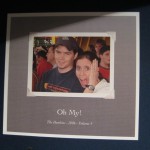 i LOVE these books. lots of photos. a little bit of "journaling." and all made by dave. gotta love iPhoto and apple – just choose a format and a font, plug in the photos, type the journaling and there you have it…. a custom book! so the new one gets displayed in our living room each year. last year's is always moved to a shelf in our office for display. and all the previous years are lined up on a shelf like any other book… but don't be confused… they're not ANY other book!