thursday: january 31st
since it's the end of the month and i know you can never get enough of my darling davey…. here are some more snapsnots of my cute little guy!
here we are (yesterday) getting ready to walk down the block to the mailbox: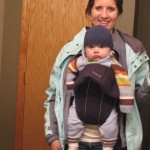 and these are from today…..
photo 1: davey trying to grab his mobile (the monkey's leg, more specifically) – i stood and watched him for quite awhile and had to bite my tongue multiple times so i wouldn't laugh out loud.
photo 2: davey wearing his new black, leather jacket from nana (the package FINALLY arrived today)…. he was just trying it on!
photo 3: as a reward for letting me take three photos of him in his new jacket, davey got to eat the x-box remote for awhile!
yesterday was a WOW! day. davey took THREE 2.5 hour naps. crazy, eh?! then today… not as great. then again, we were out and about this afternoon, so it's hard for him to nap when there are so many fun things (and people) to see at costco and treasury.
speaking of treasury, alissa took some SUPER CUTE photos of davey standing on the front counter today…. only to later discover that she forgot to put her memory card in her camera! oh no! so we'll go back next week and hopefully he'll cooperate as much as he did for her today! alissa did, however, post a photo of davey from AUGUST on her blog…. he was SO TINY! click on her name here: alissa – to see the photo.
and if you could keep dave in your prayers, we'd appreciate it. he's 100% SWAMPED with work right now (from his side companies). he's been working day and night and isn't getting much sleep. lots of phone calls. lots of stress. lots of frustration. and hopefully an end to this someday soon so he can take a night off to RELAX!