saturday: january 19th
another year. another candle on the cake. yep. i'm one year older today. and i'm not excited about this birthday. weird. it's not a mile-stone birthday age or anything like that. maybe i'm just tired. but happy birthday to me! actually, it was snowing this morning and that was pretty cool for God to give me snow for my birthday!
dave gave me my present last night – my "dunkin family volume 6" book that i didn't get at Christmas. i love these books – a friend calls it dave's version of a scrapbook. it makes me happy, that's for sure!
here are some fun photos from this past week:
i had to make the bed around dave the other night. this was the easiest way to do it, though it sure made for a lumpy bed sheet!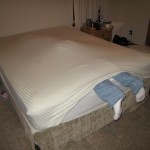 i just had to capture a photo of davey wearing his "I love mommy" onesie. when he wears it and a big smile, i have to smile with him!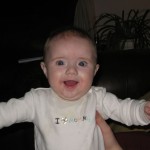 and here's the BIG BOY sitting up on a chair all by himself. it still only lasts for a few seconds before he slides down or flops over, but it's cute anyway: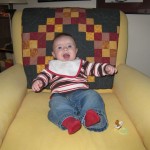 and this morning the peanut got a bath. some days he splashes A LOT (i finally moved his bath from the kitchen to the upstairs tub b/c i was tired of wiping down the entire kitchen counter after his bath!) and other times (like today), there's not much splashing going on. but he almost always (99% of the time) likes his baths!
and who can resist my cute little guy bundled up in his puppy dog towel?!
tonight, dave and i are going out on a date. yep. it might be a double date (dinner and bowling) or it might be just us. either way, i'm looking forward to it.