tuesday: january 1st, 2008
wow. it felt weird to type "2008." the real test comes, however, when i'm writing out the first check of the new year – will i get it right?
we've had a pretty good weekend, i think. we hung out with dave's parents on friday night. good times. then we chilled at home with a movie on saturday night and on sunday night i had a TOM girl party to attend, in honor of beautiful Miss Stephanie who visited us from new york. davey and konnor (who is 6 days younger) were FINALLY together again at this party. they haven't seen each other since carly's shower back in early september!
so here's them then (less than 2 months old):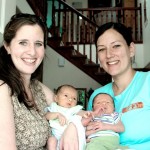 they were both still wearing preemie clothing back then. SO TINY!
and here they are on sunday night (at 5+ months old):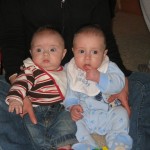 seriously… aren't these little guys DARLING?! they're growing up WAY TOO FAST and they are the highlight of our lives. i know kim feels the same way. they've added so much love, joy and happiness to their families… sometimes i'm 100% overwhelmed by the dimension such a tiny guy can add to his family!
konnor seemed to notice davey for a little while. especially his fun vibrating monkey toy (courtesy of marlon, jenn & alex!). then again, maxwell loved that toy, too. guess it's a good toy for kids (alex knew what she was thinking when she picked it out for baby davey)! it's going to be so fun to watch them grow up together and play (once they're a little older) with each other.
last night we "party hopped!" on sunday, we finally got ourselves invited to a party and then 10 minutes later some other friends called to invite us to their place. we went from feeling unloved to totally popular in the span of 10 minutes! and even though i take my camera everywhere (just about), i don't use it all that often. so the only photos we have from last night are of davey meeting abby (dan & heidi's dog). it was his first encounter with ANY furry animal. he wasn't impressed. but he didn't cry, either.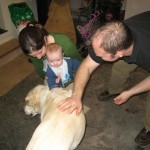 so it's the new year. i feel unprepared for this new beginning. but today, i'm hoping to spend some time in my craft room playing. i just feel the need. the urge. the desire. hopefully i'll be able to do a "looking back" post later this week – but i need time to think and reflect. i haven't had much time like that lately. for the last 5 and a half months, to be more precise. i wonder why? :)