monday: january 28th
today is dave's half birthday. which means yesterday was our half anniversary. but instead, this post is all about davey and some fun and cute photos from the weekend…. so here goes….
just playing with daddy:
a new church outfit from nana:
(and playing with a monkey from nana – this was sent before davey was born!)
being entertained by uncle jeff: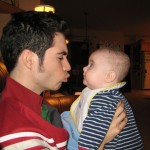 and finally, flying high with daddy!!!