thursday: january 24th
somehow, every year, my birthday gets stretched out. a dinner here. a present there. a party here. a card there. my birthday tends to last for at least 2 weeks. right now, we're at 8 days and counting (i received my birthday card from my mom a few days early last week). tonight, i received my OTHER present from dave. he came home, asked me if i wanted him to wrap my present and when i said no, he told me to close my eyes. so when i opened them, this box was on the couch: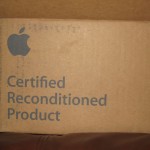 my eyes got huge. i was speechless (for a few seconds, at least!). i KNEW what it was… a new laptop. dave has wanted to get me one for quite some time. i've been using his hand-me-down for 2 or 3 years now, which means it's about time for him to get a new one and thus i would inherit the next hand-me-down. however, we just can't afford to get me one "just because." it's not like i need it to do any work… it's just mighty convenient for me to get to PLAY with a laptop (b/c we have the desktop iMac in our home office already). so he checked around and found an apple-refurbished macbook. and got it for me. THANK YOU, sweetie! i really LIKE it and i LOVE you (even though the "y" sticks)!
so here's a photo of my white macbook: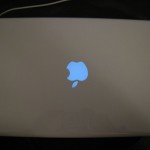 (i know it's upside down).
and then, when i was looking at my e-mail tonight, i found a link to this: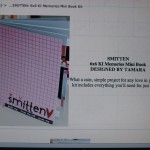 it's a mini book kit that Treasury is selling. i forgot i made this because i made it quite awhile ago. i actually saw it in the store today (just didn't know we'd have it available on-line, too) and i read through it and it almost made me cry. it just talks about the love dave and i share for each other and how we thought we knew what love was…. and then we got married. and we shared and learned and grew… and then we thought we knew what love was…. until 4:11 a.m. on sunday, july 15th when our world changed. our understanding of "love" changed. davey was born. so the book is photos of dave and i through the 5 years of our marriage until the last "spread" (aka: two facing pages) where it's photos of us and baby davey. i love this mini album and i'll be eager to have it home again to put in my basket of mini albums (which needs a purging… it's a bit overflowing right now)!
and then, just to be fun, i thought i'd take another photo of my new laptop screen: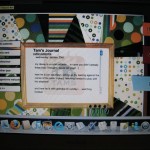 and take this opportunity to tell you that i'll be designing a NEW look for my webpage! yep. i want to make some changes, but it'll take awhile (i design the look by hand, scan it in and then dave does his "computer geek magic" and i have a new look)! some changes i'd like to make and features i'd like to add include: easier access to my "archives," more "white space" in the center, top and right hand sides for text and pictures (so my entries don't seem quite so long), add links to those blogs i read frequently (like Treasury's) and more!
and totally unrelated to all that has been posted above, i had fun playing with davey's blocks last night: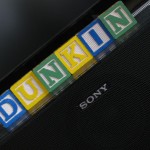 i took the photo on an angle on purpose – wanted a different view. but the blocks are current sitting atop one of our speakers (the one in front of the tv screen). i'm sure i'll move them soon, but for now, they make me happy to see them sitting there.
and since i know my posts are not complete without the addition of the little dude, here's one of him from this morning, happy as can be, before he "peed out" of his diaper and had to change into a different onesie: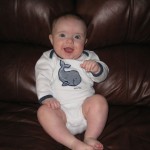 sometimes i really wonder what is running through his mind. these smiles still blow me away. and they do make everything better! :)