wed: dec 12th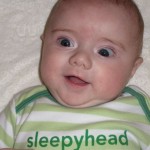 the CUTEST face ever, eh?! this photo was taken last week. he's not looking very sleepy in his "sleepyhead" onesie, but he did nap well the day he wore it! i LOVE this photo. he's looking at me instead of the camera but aren't those eyes killer?! so big and bright and beautiful! no wonder my heart melts again and again around this kid!
now i know this next one is a weird angle on the photo, but i had to post it anyway:
he really is NOT a fan of tummy time! he'll tolerate it for awhile (see 2nd photo above) and then he's done, which is okay. i DO try to encourage tummy time. i really do NOT want an early walker. i'd rather have a late walker, in fact… how else will he be content in his playpen while i scrapbook?! so in these photo, we put davey on his tummy, moved his arms so he was "leaning" on his elbows… and this is his reaction… he flails all limbs out so he is resting only on his tummy… like he's high centered. then he just kicks, kicks, kicks and flails, flails, flails. we try to move his arms back in front of him so he is again "leaning" on his elbows and mere seconds later, this is what we see again – all limbs sticking out everywhere… it's so funny – you can't help but laugh! and if he's still got some energy left in him, he'll even laugh with you.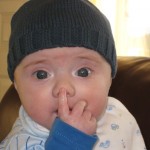 and yes, he has discovered his hands and his tongue! he actually prefers now to spit out his binky and suck on his fingers, thumb or his entire fist! it's often a finger (the pointer finger, usually) that you'll find in his mouth. then he pulls it out and waves it about and gets slobber on everything – including your face! the discovery of his tongue, however, has brought about many laughs for many people. it was late last week that he learned it was there and he used it, initially to explore the inside of his mouth, especially his gums. his bottom lip would stick out kinda funny and for awhile we thought he was just making funny faces. his grandma finally suggested he was using his tongue to explore inside his mouth. silly davey. for the last day or two, his funny faces have included sticking his tongue OUTSIDE of his mouth. now i will say that he's been trying to eat and suck on his toys for a few weeks already. but i think it's finally "clicking" for davey that his tongue does the tasting. it's so fun to watch him…. he really is entertaining!