sunday: december 30th
from davey:
today mama dressed me in my cute overalls outfit from my nana. everyone said i looked really cute. i even wore my "sunday" bib from grandpa & grandma, though mama took it off for the photos. i'm learning how to sit up (as long as i can lean against a couch or chair, i'm pretty okay, though i still topple over).
and mama FINALLY remembered to take my 5-month photo with her elephant, so here i am: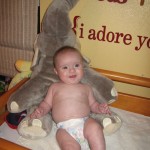 mama and daddy can't believe how big i'm getting!
and a few quick words from mama:
here's a look at my new "message board center" that i got for Christmas: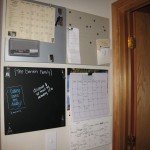 so fun, eh? yep. i think it'll work really well in our house, especially a few years down the road when we've got several kids involved in all kinds of activities!
(DON'T FORGET TO COMMENT ON MY LAST BLOG POST – "SATURDAY & A PIF" TO ENTER TO WIN THE LATEST CONTEST HERE AT TTB!)