sunday: december 9
so last night was the wild and crazy TOM GIRL party (boys were invited and did attend). there was LOTS and LOTS of food, laughter, noise and craziness. davey attended the party with us. true to form, i did NOT take my camera out of his diaper bag the entire night (for a room full of scrappers, there weren't very many cameras out on display!), but when i got home, i had to snap a few shots of my EXHAUSTED baby. i hardly held him the whole night (we were there for over 3 hours). he missed a nap (just too much to see and too noisy), but he conked out on the ride home (all 5 minutes of it!)! so here's my sweet baby boy, all dressed up for the party: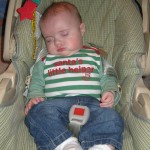 you can't see it in this photo, but when we went to the party, he even had a little "faux hawk" (aka: a baby sized mohawk)! poor kid was SOOOOO TIRED! he actually CONTINUED to sleep as i removed his blanket, binkie and hat AND unstrapped him from his carseat for this photo. he DID, however, wake up when i put him in his pjs!
after church today is the big SHOPPING ADVENTURE. i'm hoping to complete at least 90-95% of my Christmas shopping today. in one day. yep. i'm serious. let's just "get 'er done!" :)
as if the TOM girl party wasn't enough fun and festivity for one day, yesterday afternoon we got to see one of dave's cousins and his family – they were in town for a very brief visit from Missouri (i think). So here's John (dave's cousin), his wife MIchelle and daughters Micah and McKenzie (not sure of the spelling of her name):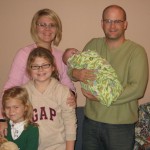 Those girls are SO SWEET and fun-loving. Mackenzie (the younger one) is so FULL OF LIFE. she reminds me a LOT of her cousin Dori (John's brother's daughter) and it turns out they're only a few weeks apart in age. The craziest thing is Michelle and Tracy (the spouses) look like they're related, not John and Roy (the brothers)!
Okay. 'Nuf said for now. Happy Sunday!