Friday: December 21
finally mailed. yep. all out-of-state christmas cards were mailed yesterday. all in-state ones were mailed today. whew. what a relief to have that finished. it was quite a project this year!
the wedding yesterday went pretty well, i think. john and cathy were an easy couple to work with and their wedding was so special (second marriage for each of them) that even I cried – and i don't even know them! john has two kids and cathy has one, so as part of the ceremony, not only did they tell their "own" children they still love them, but they did a "parental pledge" to their future stepchild(ren) promising to love them, listen to them, care for them, and treat them as their own. it was pretty emotional (in a good way).
and to top it all off, when i picked up davey from carrilee's house, he was happily playing in an exersaucer as henry tried to push and spin him around the room. it appeared as though the two were having a blast!
when davey and i got home, davey was sleeping in his seat, but just an hour or so later, davey and daddy got to play together. davey's newest interests relate to the tv remote and the telephone. must be the buttons or something, but davey is really interested in them!
hey daddy – what's that you've got? something for me?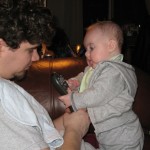 mmmm. it tastes pretty good.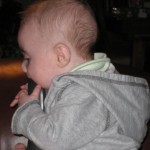 but daddy, i want it back. why did you take it from me? i need to study it.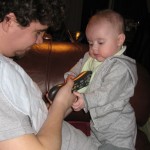 yes, daddy. i like to study things with my mouth!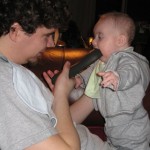 seriously daddy. can i PUH-LEASE have it back? it makes me so excited!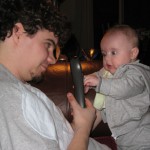 victory for me! now i can study this thing on my own!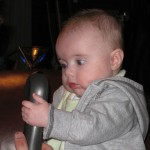 we weighed and measured davey the other night. he weighed in at 14 pounds 4 ounces and he measured just under 26 inches. that means he grew an inch and a half in a month! yep. that's a crazy-lot of growing to do in just one month!
tonight we have an "adults only" christmas party. i forgot to track down a babysitter and grandma already watched davey twice this week for me… but i did call to ask her again. so tonight, grandpa came to the rescue… he has offered to watch baby davey! yippee! hopefully davey will be on his best behavior tonight! :)
i'm not feeling 100% tonight. someone (not sure who) shared their cold with me, but since this is our last party before Christmas, i want to go. i'm still debating whether or not i'll take some cold medicine (who wants to be blowing their nose all night at a party?). oh – and did i mention that Davey will be Baby Jesus on Sunday morning during the 2nd service? Yep. During the service and during a "live nativity" afterwards. i must admit, I'm excited for davey to play Jesus… and I think it'll be interesting to see an ACTIVE baby Jesus rather than a sleeping baby Jesus for a change! :)
and one more thing… yesterday…. i got my hair cut and foiled. Red. Yep. My hair is still brown but it now has lots and lots of red in it. I LOVE it. great work, Brandi! and i had about 3 inches cut off the overall length, plus it got thinned out again and angled and I had Brandi cut some (GASP!) long bangs. Granted, I'm not wearing them as bangs; I'm wearing them pushed back as though I've got bangs in the "growing out" phase – I just like the way it looks. Tons of compliments already. Hopefully I'll have some photos to share soon!