only ONE MORE DAY until davey's first Christmas. he looks excited, don't you think?!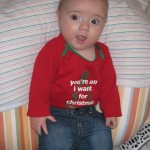 (don't ya just love his little onesie?)
tonight we'll have dave's chili and something else yummy for dinner at dad & mom's house. i think the whole family will be there. even sterling's parents plan to join us (i think)! fun, fun, fun! then we'll come home, dave and i will each open a present (maybe?) and then in the morning we'll do our own breakfast (Lisa's Cinnamon Delights this year) and gifts and then we'll head over to dad & mom's for the Christmas story, more gifts, the Hershey Kiss Hunt, our big Christmas meal and (hopefully) some relaxing moments with the family!