tuesday: december 11th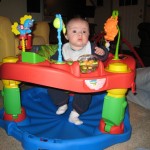 davey really seems to like his early Christmas present (an exersaucer). so far, it's been a good investment for us b/c we don't have to spend hours holding him in a standing position or walking around with him! instead, he can be upright on his own while we play with him. hopefully it will hold his interest for MONTHS to come!
last night dave was holding davey and got him to stand up with just the slightest "leaning" on daddy for help. yep. we are convinced that our child will NOT crawl but will move immediately to walking. Lord give me EVEN MORE patience if/when that happens! :) but in lieu of a photo of davey standing, here's a RARE photo of him actually SITTING (on the couch).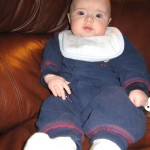 …and one of him SMILING while he sits there like a big boy!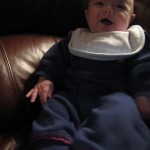 we played with him a bit last night to get him to lean forward (while sitting) to reach for a toy… he finally did it and then just looked around in utter confusion when we cheered for him! he is such a joy and delight to us.