wednesday: december 19th
here's what you've all been waiting for: new photos of davey!!!
here's my smiley little guy on monday (waiting for daddy to come home and play):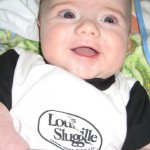 davey spent quite a lot of time on monday in this "back bend" shape. he does it to himself. it cracks me up. and he's just so darn flexible!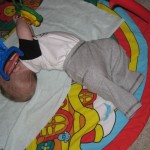 here's what i call davey's basketball coach outfit. they're warm up pants (that LOOK like they "zip off" into shorts, but they don't really) with blue stripes on the side, a long-sleeve white onesie and then a short-sleeve polo shirt with a basketball on it! i think he looks like such a little man in this outfit!
on monday night davey TOTALLY entertained me with FUNNY faces. i was only able to capture one on film, and here it is: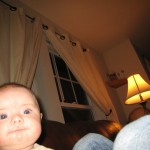 and here's proof that he only hates tummy time MOST of the time but not ALL of the time: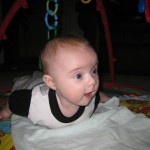 christmas cards were started, but not completed, yesterday between my classes. i'm hoping to get the out of state ones mailed on thursday (big dreams, i know) and the in-state ones mailed on friday. we'll see how it goes! :)
i think davey and i will stick around the house today… trying to get things accomplished and tidied up and stuff. then thursday is a crazy day and then it's the weekend before Christmas. WOW. that came up F-A-S-T!
and before i forget (AGAIN), nana, the photos are NOT deceiving you – his hair IS growing in and filling in. i'll have to spike and faux-hawk it again soon (maybe for christmas)!