thursday: december 13
davey got to wear two new head toppingsh yeshterday. one was "borrowed" momentarily at the orthodontisht'sh offiche while i got my retainersh. here ish my little reindeer: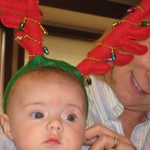 ishn't he sho cute?!?!?!
and here'sh my little guy in hish new shanta hat that we found at walmart yeshterday: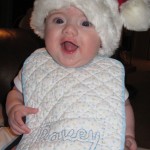 i think he likesh it!
(i apologize for the funky shpellingsh but i'm trying to type ash my lishp shounds)!!! :)
one more gift card and one more gift to purchashe and i will be FINISHED with my shopping (though i have plenty of thingsh to make schtill)!!!