davey turned five months old on saturday (12/15/07). dave and i can't believe it. have we really been parents for five months already? it just doesn't seem possible. there are still days when my mind says "are you KIDDING ME? who in the world thought YOU would be a good and responsible parent?" then again, there are days when my mind says "you're still in college" so i guess i shouldn't really trust my mind too much. apparently it's normal for your brain to become like SCRAMBLED MUSH after having a baby. that's my excuse… what's yours? (tee hee! couldn't resist!)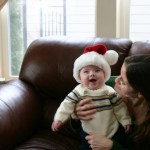 as for the latest davey happenings, here's a (non-comprehensive) list:
- still a chatty charlie
- still guzzles his food
- wearing size 3-6 month clothing
- wearing his THIRD size of diapers
- loves to suck his fist. or thumb. or finger. or shirt. or burp rag. or just about anything he can get near his mouth!
- still spits up quite a bit.
- still LOVES to stand and still not at all interested in sitting or tummy time or rolling over
- can hold on to toys
- will "bat at" and "play with" toys while in his car seat or with one of those activity gyms overhead
- seems to love music
- really likes to observe the world around him
- experiencing a VERY MINOR and first diaper rash
- loves to be the center of attention
- still knows what he wants, when he wants it
- sleeps through the night (usually 8-10 hours – starting around 9 or 10 p.m.)
- fights naptime and doesn't sleep for long (40 minutes, usually)
- will take a longer nap (sometimes 2 hours) if someone is holding him
- has a smile that can LIGHT UP a room
- entranced by lights
- likes the TV (when it's on)
- still has that mysterious friend in the mirror
- has dimples in his elbows
- has "wrist rolls" ('cuz he's so darn cute and chubby!)
- has STRONG legs
- was finally babysat by a non-family member (thank you, Trisha!)
- spent about 30 minutes in the church nursery on Sunday (first time!)
- LOVE, LOVE, LOVES his daddy
- seems to really enjoy lying on his changing table (that's where i get the most smiles from him, at least)
- stares at the animals on his crib bumper when falling asleep at night
- seems to have laryngitis (his cry is so pitiful right now!)
- tasted hot chocolate (okay, room temperate "hot" chocolate) and blue powerade this weekend (loved the hot chocolate – or maybe it was the whipped cream – and tolerated the powerade)
- still drinking milk, milk and more milk (from mama and formula)
- eyes are still very blue (and big and beautiful)
- is starting to look a little more like mama (at least, that's what other people say)…. FINALLY! :)
- enjoys the johnny jumperoo thing and his exersaucer
- is beginning to play on his own (with the activity gym or in the exersaucer) for longer periods of time
- weighs over 14 pounds (i'll have to weigh him again to get a more accurate number)