friday: december 28th
okay. i'm going to get in trouble with my mom if i don't post more photos of davey. since he was pretty sick we didn't take too many photos on Christmas eve or Christmas day, so i didn't have too many to choose from, so my apologies for the less-than-stellar photos:
davey's first Christmas tree: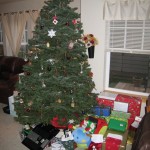 Davey's stocking (that i finally completed the day before Christmas):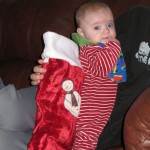 Santa Baby in his exersaucer (for a few short minutes):
Davey and his sock monkey (from great-granma):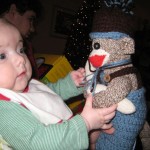 And Davey enjoying his tigger jumping seat. The cutest part of this seat is there's a tigger tail in the back!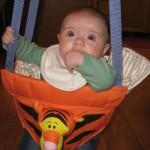 Yesterday I had MAJOR after-holiday blues. I had a few moments of almost crying. It was weird – I've never had that experience before. It was a hard adjustment to have Dave go back to work after having him around for a few days. Thankfully our dear friends, the Blacks, stopped by to say "hi" and they saved my sanity (or at least some puffy eyes)!
Today we're going to visit grandpa & grandma for awhile (grandpa is taking TWO WEEKS off!). It's about time I get out of this house! I still don't want to run a bunch of errands, though, 'cuz Davey's still a little sick. He's got a cough and a little bit of a sore throat and runny nose still, but compared to how he was a few days ago, he is vastly improved!
And coming soon: a thank-you, a PIF game and a "tag" game!