sunday: december 23rd
only TWO MORE DAYS until davey's first Christmas! yesterday we got our tree (finally) and davey helped pick it out from a little greenhouse here in town.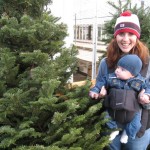 doesn't he look SOOOOO CUTE in his jeans, jean jacket and little "beanie" hat? (and notice the red in my hair?) after getting our tree, we went to rite aid to get me some cold medicine that i can take since davey still gets some "white liquid gold." my usual cold medicine, apparently, it not conducive to pregnant or nursing mothers.
last night dave and i decorated the tree and the house. i organized the already-wrapped gifts and put them under the tree. all the while, davey slept. poor kid. he and i are both sick and i'm not sure which one of us gave it to the other. what a horrible time of year to be sick, too!
then this morning, our church had their annual Christmas Cantada (with dad, the music pastor), leading it all. davey even got a part this year – he was baby Jesus on stage for a song or two and then he was baby Jesus in an "after the service" live nativity scene. (hence, the title of this post: "Baby Jevey" – a combination of Baby Jesus and Baby Davey).
he did pretty well, though he missed some naptimes to participate! it's been an interesting adventure for me, b/c i was pretty hopeful that he would sleep through both events. but the real baby Jesus was a baby just like all others (only without sin). so i'm sure he cried and fussed and didn't sleep when he was supposed to. it's been pretty "wild" for my mind to begin to comprehend how HELPLESS the Son of God made Himself when He became human. He became flesh… a BABY. an innocent, helpless baby. just like my davey (only my davey definitely has a sin nature!). the real Jesus still cried when he was hungry and wet. he still needed love, attention, holding and care. he needed food and clothing and shelter. what a sacrifice.
and even last year, when i was newly pregnant with baby Seven, i often wondered what went through Mary's mind when she was pregnant with the Son of God. i wonder if it felt surreal to her. did she enjoy being kicked in the middle of the night? did she welcome morning sickness? did she even have morning sickness or any other "typical" pregnant maladies? i think i'd like to have a nice, long conversation with her in heaven… to ask her how she felt when she was pregnant and then later as she raised her little boy. God's Own Son.
even now, my mind is stretched thin trying to comprehend it all.