monday: december 10th
wanna know a secret? well, i guess it's no longer a secret. but it was until this morning…. (NO, we're NOT pregnant again)…
they're off. for real. after 2 years, 4 months and 14 days, my braces are finally history. so here is a NOT so great photo of me (with davey) and NO braces: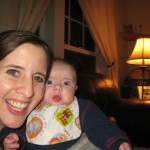 it's been a long, long journey. it WAS totally worth it. and the journey isn't over yet. starting on wednesday, i'll be wearing a retainer all day and all night for 6 months and then after that time, i get to wear it only at night while i sleep. but i still say it was totally worth it!
here's a cuter shot of davey. he's wearing his cowboy outfit from aunt marylou (who lives in oklahoma)!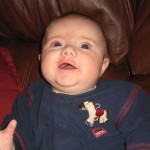 my christmas shopping adventure with carrilee yesterday was a huge success. i WAS able to complete about 90-95% of my shopping (including stocking stuffers)! not bad, eh?! yeah! and it even SNOWED again yesterday… just a dusting, but it was beautiful. i loved it, especially since i didn't have to drive in it!
dave and i bought davey an exersaucer for his "big" Christmas present this year. and tonight we decided to put it together (well, I put it together) to let davey try it out. yeah. he seemed to really enjoy it. i'm hoping it will keep him happy and content while i get things done around the house (laundry, dishes, dinner, work, scrapbooking, etc.). only time will tell. but anything that keeps him upright (check) and lets him stand up (check) should keep him pretty happy.
okay. time to go to bed… i'm pretty tired (it's 10:51 p.m.)