monday: december 31st
the last day of the year. and what a year it's been. such a wild ride. the last 5 months have flown by so fast it has made my head spin. my little, tiny baby is growing up right before my very eyes. he has more than doubled his birth weight. he's added at least 8 inches to his length. he's about to move into his 5th size of clothing. i was reading up on "foods" the other day. so much to remember – fruits, veggies, proteins, etc. hopefully our whole household will start eating more healthy once davey is eating more solids! i know that 2008 will only bring more surprises, laughter, joy, tears and sorrows. hopefully the love and laughter will outweigh all the rest. now let the journey begin….
davey, for whatever reason, likes to cross his legs at the ankles when he's lying down and playing: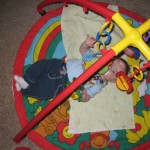 and his funny face that ALWAYS makes me laugh:
(front view):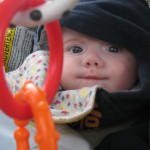 and side view: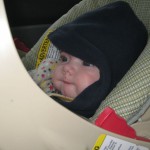 oh those cheeks! i just want to eat them… they're so chubby and cute, especially when he pulls in his bottom lip like that! what funny faces you enjoy making, dearest davey!
(AND DON'T FORGET TO COMMENT ON MY "SATURDAY & A PIF" BLOG POST SO YOU CAN ENTER TO WIN THE LATEST CONTEST)!