so while davey was sleeping on sunday, here are the projects i was able to work on: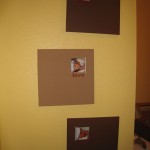 here are some close ups of those frames:
i painted the frames. added rub-ons (the white polka dots) and red vinyl words. i think they need something more, but i'm going to live with them for awhile before adding anything to them.
then i started another project (that's still in the "unfinished" stage). it's the letters for davey's name. i'm not sure where i'll hang them (likely over his closet, i suppose) but i'm glad i'm finally getting them painted!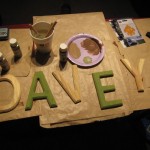 you may remember that a few weeks ago i posted that i hadn't hung the valance in davey's room yet… about an hour after publishing that post i went up to davey's room and hung the valance but i had to do a little "tweaking" to it on sunday to get it to hang right. so here's his cute window now: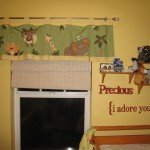 and finally, here are the five frames in my hallway that hold scrapbook pages (three of them were finally hung on sunday)! the first two photos are of the same three frames, just from two angles so you can see the layouts (barely). for me, it's a fun and inspiring walk down the hallway to my craft room!
so that's the latest on projects by tam (not including all the fun cards i've been making for the store lately)!!