i FINALLY took some photos (not-so-great ones and for that, i apologize) of most of my layouts that i made at the 27-hour crop a few weekends ago. some of them still need journaling (i'm trying to find my brown sharpie… it's in hiding!):
3 generations of david c dunkins: (gotta get great-grandpa out here from ohio for the full FOUR generations photo):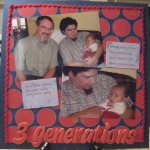 me at 32 weeks: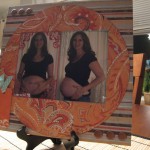 jeff & dave's family birthday celebration:
brant & trisha's party after "bubba's" 20 week ultrasound: (bubba was eventually named "joshua" and he is now 9 months old)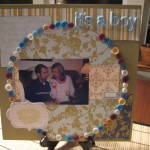 a father's love:
home at last (davey with his two visiting nurses):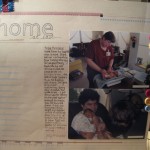 meeting jaden lane at the hospital:
(notice the photo of davey on p2 – he's stuck in the hallway on the floor in his car seat carrier b/c non-siblings are not allowed in the hospital room with the mom and new baby… davey was NOT a happy camper – i guess he didn't want to wait to meet jaden!)
our first photos as parents: (i guess we look a little tired, but otherwise the same!)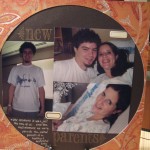 the WRX… all shiny & clean. (those area real mirrors on the page!)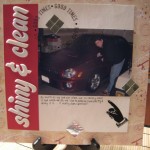 davey's stroller: (before he was "davey")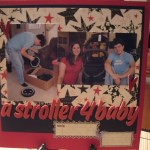 my friend and former colleague summer (and her skull floor mats to match her skull hitch):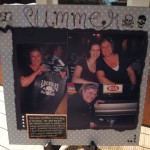 and last (but not least), tommy d's senior photos (taken by dave this time LAST year):
that third photo is a "close up" of the bottom photo on the 2nd page of the layout – it's a little book to show some of his other photos from that "photography session."
i did make a few other layouts at the crop, but i now have FIVE frames that hang in the upstairs hallway. each frame holds a 12×12 layout and i can change them out as i make a new layout that i feel should be displayed for awhile. three layouts from the weekend are currently framed and hanging in my hallway and the glass created too much glare to make a halfway decent photo to post here.