monday: november 19th
so four months ago, this is what my son looked like (this was his hospital photo):
and this weekend, he looked like this:
davey is really getting into playing with his toys these days, especially if they are hanging from the handle of his car seat. it's not unusual these days to find him asleep in his car seat with his hand hanging onto one of his toys!
and tonight, he decided my fingers were a tasty snack. weird, i know. i let him suck on them, though, so i could feel around for some teeth (he's been drooling like crazy), but i didn't feel any (though that doesn't mean he's not working on some)!
and in that third photo, davey's holding up his head pretty well. he still doesn't like "tummy time" but at least i was able to prop him up on his chunky elbows and that helped him chill out for a little while. his buddy konnor can roll over, so davey needs to "keep up!"
this is davey dressed up in some of his sonics attire from cousin roy. the matching pants, unfortunately, don't fit him (davey's feet are too long!) and i forgot to put the hat on his head, but he looks pretty happy to be a sonics fan, eh? too bad the sonics aren't doing very well so far this season!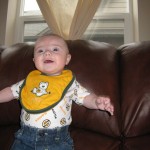 on sunday our friends were invited us to their house for lunch after church. yummy BBQ beef sandwiches, the seahawks (football) game, dave's parents and tom were also there. davey was a good baby. he was asleep when we arrived. he STAYED ASLEEP while i ate and then he ate pretty well (aka: he wasn't a total spit-up piggy) and then he coo'ed and played and and was generally a great joy to have in attendance. he fell asleep after we got home and slept for over 2 hours and after having his binky re-inserted, he slept for another hour or so. dave was able to do some work and call a college buddy for a "catch up" phone call. and i was able to PLAY in my craft area and FINISH an entire project. cool, huh?
and as gross as this next photo is, i wanted to have PROOF on here that davey DOES spit up on me (not just on daddy, as he sometimes thinks):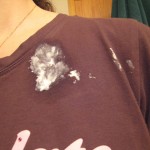 this is part of davey's breakfast from one day last week. nice, huh? this is my world!