here are some recent photos of davey. i know i haven't posted any new ones in awhile, so here you go!
he still loves to sleep with his arms up around his head (when i don't have him tightly swaddled):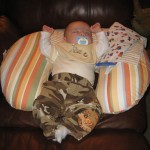 and i just LOVE those camo pants. i can't put them on him enough. between those pants and his little jeans, i don't think he NEEDS any other pants, though he does wear lots of other clothing (esp. his cute grey & red outfit and light blue sweater outfit from nana)!
on sunday, dave and i went to bellingham (alone) while grandpa & grandma watched davey. when we returned, he was sitting in his little leap frog chair… he was SO MESMERIZED by the colored lights on the mirror, that he didn't even CARE that we were back! it was so cute to watch him. he sat in the chair again on monday when we stopped at grandpa & grandma's house after playgroup. once again, the lights on the mirror were very interesting. and the hanging toys were REALLY fun to "bat."
enjoy! davey will be FOUR MONTHS OLD on Thursday (15th)… HOW is that possible already?!