friday: november 2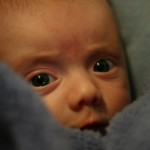 hi everybody! mama's busy today so i'm writing her blog post entry! mama says today i get to play with grandma and grandpa for awhile and maybe even my uncle tom! uncle tom is funny – he likes to make faces and he likes to talk with me. it's nice to have someone around who understands me. grandpa and grandma are great, too. they sing to me and play the piano and teach me things like "lamp" and "door." grandpa is a little afraid of my spit up, but i'll try to be good for him today. mama says that after i spend time with all of those wonderful people, i'll get to spend all night tonight and all day tomorrow with my daddy! i am so excited i can't stop kicking and wiggling and coo'ing! mama likes me again today because i slept well last night. she did have to feed me at 5 a.m. but i still have this bugger of a cold, so who can blame me…. and i'm too cute to be mad at for long, anyway!
here are some photos of me from last week that mama hasn't posted yet.
mama says i'm SUPER CUTE and she says that a lot of you think so, too. so THANK YOU for thinking i'm cute and for loving me! i like to play with people and talk to people so feel free to come by anytime to say "HI" to me!
mama says there won't be any blog posts again until sunday when she's back home. i'm going to miss her. she says she's going to miss me. so here's a photo of us that she says is one of her new favorites. i think that's not very nice to say it's one of her "favorites" because you can't even see my face!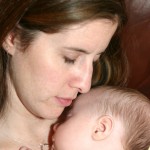 have a fun weekend… i know i will!
love,
davey