saturday: november 24th
dave is SO HAPPY he has a four day weekend. he's been a TREMENDOUS help around the house this week and i've FULLY appreciated it.
we had a wonderful thanksgiving feast at the OTHER dunkin home here in lynden. all of dave's siblings were in attendance (jeff's girlfriend was there, too) and granma was able to join us, so it was a full house. davey had a really ROUGH morning that day…. SUPER fussy. but he eventually took a short nap at grandpa & grandma's house before we ate and then he took two nice long naps (on mama) after we ate.
so here's our group photo before we all went our separate ways: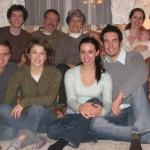 here's davey eyeing my almost empty plate. i did put a touch of gravy on a fingertip and left him lick it. not sure i should be doing that but is there really a lot of harm in it? he just wants to be a big boy eating big boy food like everyone else!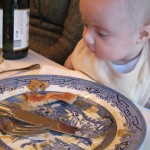 and while sterling, taryn (eventually jeff joined them – after his nap), rachel and dad played chess, davey took a nap on mama!
sterling is ruthless. he was eyeing taryn's pieces from the start of the game. and taryn, for someone who claims to never have played chess before, BEAT sterling! granted, she had help from everyone (even sterling) but still, rachel was SO EXCITED that sterling finally LOST at chess! so it was a good day at the dunkin homestead!
and last night we had some friends over for dinner (the baileys, the barons and the dycks) along with their children. so 8 adults. 4 kids. and eventually emma joined us, too (auntie bree ann was hanging out with emma most of the night). we had grilled pizza (yummy pizza dough, made from scratch, and grilled and then the pizza gets grilled… OH SOOOOO GOOD), caesar salad, lots of beverages (including a very wide variety) and tasty chocolate pie for dessert (thanks, everyone, for chipping in with all those "additions" to the meal)! we ended up trying a mini photo session of the boys (kids) and here are two of my favorite photos: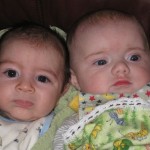 this is jaden and davey. they are 6 weeks apart. they are SOOOOO CUTE!
and here are the four boys together: jaden, davey, joshua and henry (in age order, even)!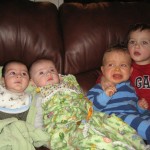 i love that jaden and davey haven't really got a clue what's going on. i love that joshua is NOT happy sitting next to henry. i love that henry is giving joshua a hug and joshua wants NO part of it. i LOVE these boys. and their moms. and their dads are pretty cool, too. we are SO BLESSED to have wonderful friends.