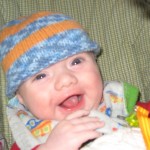 Davey says "HAPPY THANKSGIVING!"
The Dunkin household has SO MUCH to be thankful for this year… and of course Davey is right there at the top of our "we are thankful" list.
davey went to the doctor on monday for his 4-month well-baby check.
he's weighing in at 13 pounds, 1.5 ounces and he's 24.25 inches long.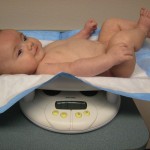 this means he has progressed from being in the 5th percentile (at his 2-month well-baby check) to the 10th percentile… so even though he spits up a lot (ugh) he's getting what he needs to grow and work his way up the charts! i also think it's impressive to realize that just 4 months ago he wasn't even ON the charts!
Have a blessed thanksgiving day, everyone!