saturday: november 10th
dave and i have been busy in the garage today… trying to clean it out and get it a little more organized. we have a HUGE pile of goodies to save for a garage sale, an ARC pick-up date or to drop off at the Goodwill. tonight we have a birthday party for sweet Emma Kay.
and just minutes ago i got an e-mail that our dear friends Richard and Christy had their baby boy!
Colin Kingsley Olson was born on Friday, November 9, 2007 at 4:25 p.m. He weighed in at 8 lbs, 5 oz, was 20 inches long and has dark, dark hair. Another tidbit: he's named after his grandfather and great-grandfather.
Looks like Oliver already loves his little brother!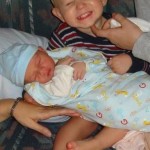 Congratulations to our dear friends Richard and Christy! We can't wait to meet little Colin!