Thursday: 11/1/07
yesterday was a busy day for davey and i. we started at the orthodontist's office for mama and we were greeted by colonel sanders and a bunch of chickens: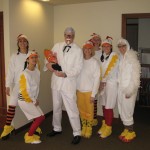 and yes, that is davey being held by colonel sanders…. um… i mean dr. cummins (my orthodontist)!
next we had lunch with dave at boss tweed. boss is one of our favorite places downtown for GOOD fried fish (and so-so french fries). BUT this is their last week in business. the land was sold and it's likely that condos or something will be built since it's got a nice view of the water. but before the place closed it's doors, dave and i wanted to have one more lunch there – and we wanted to introduce davey to it, though he'll never remember it. so here's a photo of "daddy's little monster" (wearing his cute jack-o-lantern hat) with daddy at boss tweed: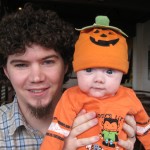 and here's that SAME little monster drinking a bottle at boss tweed (nope, we had to bring that in… it's not on the menu there!):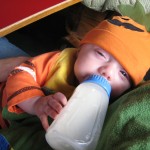 next we ran a whole bunch of errands. davey slept through some of them, but not all of them. and he definitely didn't sleep as well as if he'd been at home in his crib. in the end, we decided to skip the downtown trick-or-treating b/c it didn't start until 3 and i was pretty much exhausted at that point. we'll make sure to do it next year, though… davey should be more "into" it, too.
so we headed home, swapped out some laundry, got dinner started and tried to pick up around the house a little bit before transforming davey from "daddy's little monster" to a ghost: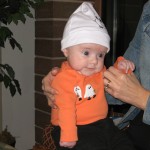 and this scary little ghost went to church last night to see grandpa & grandma at choir practice and to see daddy as he took photos for the awana grand prix (happening tomorrow night).
it doesn't sound like we did much, but all those errands really ate into our day and wiped me out. i was so tired i fell asleep early last night (after we closed our curtains, hung a towel over our front door and turned off ALL of our lights (b/c we didn't have any candy – we weren't expecting to be home). then davey woke up around 4. he took his binky twice and by 4:30 he was done with that but he still wasn't hungry. so we moved to the bonus room and tried to sleep on the couch (2nd time this week). davey slept fitfully. i didn't sleep. (i was so tired that i had some half sleeping, half awake weird dreams, though). my thought was to feed davey around 6-ish but i was in that "too tired to function" zone for awhile and by the time i was awake enough to check the clock, it was after 7 a.m.
so i slept from 7:40 to 8:15 or so and have been awake ever since. it's been a rough morning. davey still has a lingering cough from his cold and he still snores when he sleeps. he's been spitting up quite a bit (i'm bringing the receiving blankets back out to use as burp rags) and i'm not sure what's going on with the poor little guy. dave will be in charge this weekend b/c i'm going to a 27-hour crop from tomorrow evening until saturday night. i'm teaching two classes on saturday afternoon (at the crop) and i should be there early tomorrow to help set up some stuff.
(oh yeah – my braces are NOT coming off in two weeks. i told colonel sanders yesterday that he's the expert and i will trust his opinion. my teeth currently look great. i want them to look as perfect as possible.)