friday: november 9th
i'm sorry i've been a bad blogger lately. i feel compelled to post photos when i blog and i haven't really had any photos to share lately. i've been focusing on ENJOYING my time with my son rather than CAPTURING it on film.
davey is currently lying on his boppy next to me… sleeping with his eyes partially open (that always freaks me out but i can't stop him from doing it). his cold is much better – just a bit of a cough remaining and that's about it. for his first cold, it went pretty well. he never had a fever and he remained the happy and easy-going baby he's always been. his spitting up did increase but with his nasal passages clearing, he's spitting up much less once again – THANKFULLY! (i'm really praying that davey is my only spitter. it's so gross and frustrating)!
we were supposed to have a play date yesterday with konnor, who is 6 days younger than davey, but our play date/photo shoot got postponed. i can't wait to see davey and konnor together again… the last time i saw them together was at carly's bridal shower: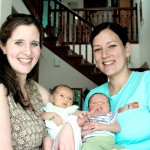 i don't remember how old the boys were in this photo (do you remember, kim?) but they are SO LITTLE here!
so instead of a playdate yesterday we ran errands: Michaels, Petsmart (fish food), Costco. Treasury and The Dollar Tree. Doesn't sound like much, but we were WIPED OUT after those stores! Hopefully we can chill around the house most of today. I also hope it gets nice enough for us to go for a walk today! i'm looking forward to this weekend: we only have ONE thing on our calendar and it's a birthday party for a 2-year old on Saturday night.
Davey just woke up! More later!