tuesday: november 6th
davey made a new friend last week while he was hanging out with daddy. he tends to see this friend daily these days. here's a photo of davey and his new friend: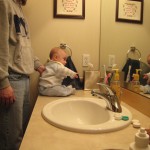 yep. davey's newest friend is his reflection in the mirror! he loves to talk and reach out to his friend. and he LOVES to stare.
speaking of talking… in the last few days, davey has gotten REALLY vocal. he talks the most after he's eaten and had his diaper changed… you know – when he feels good and comfortable! it really is cute to hear him babble on and on. and if dave or i encourages him in anyway, he'll talk for a LONG, LONG time! his favorite place to be to talk – on his back, on the floor. he also just KICKS his legs over and over and over. davey is NOT a fan of tummy time, but he LOVES to be on his back. i wouldn't be surprised if he started rolling over from his back to his tummy soon!
on sunday the weather was GORGEOUS so after church and lunch, dave, davey and i went for a walk. we found our way to The Woods (a local coffee place) where we stopped inside for a drink and davey got out of his stroller for a bit! it was beautiful and sunny yesterday, too. and it looks like today will be gorgeous as well. of course today, because i'll be in the store today teaching classes!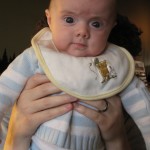 i did take davey to the doctor yesterday for his cough. the doctor gave him a "clean bill of health." it's just a bad cold that davey has and he'll likely have it for a few more days. but his lungs are clear. his ears are clear. he's well hydrated. and he's still a really happy kid. AND he now weighs in at 12 pounds 8.5 ounces!
(p.s. – i fixed the "link" that wasn't a link in the last post that will take you back to the "contest" post)