wednesday: october 17th
'tis the season for colds…. and davey has his first. poor little guy has watery eyes and a runny nose… yet he's stuffed up, too, 'cuz he's snoring like crazy when he sleeps. he can't even suck on his binky too well. i will definitely give him some infant tylenol tonight before bed and hopefully he'll be over this cold quickly. kinda ironic, though, that i've avoided putting davey in the church nursery for the simple fact that i wanted to "protect him" from all the germs those kids share with one another!
before i realized davey had an actual cold, i did a mini photo shoot with him this morning b/c he was wearing his GOOGLE onesie (compliments of his uncle john who works in the new york GOOGLE office) and he looked SO DARN CUTE!
so in this photo, it looks like he's giving the "thumbs up!" signal to google while rubbing his eye with his other hand (fist):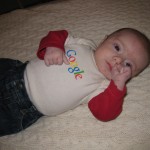 and in THIS photo, it looks like he's giving the "thumbs down" sign to google: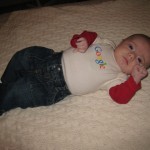 and since the photos were taken one right after the other, i'm not sure which one he really means!
despite his cold, davey continues to be a HAPPY and ACTIVE baby. he LOVES to flail his arms and kick his legs, and this morning was no different: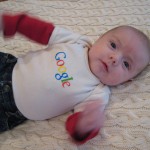 I love seeing the BLUR his moving hands/arms create when i turn the flash on my camera to "off."
today's adventures included a trip to the orthodontist; a trip to deals only (where purchases included three more pairs of shorts for davey for a whopping $1 each and a pair of mossimo brand bermuda shorts for me for a buck, among other things); lunch with daddy; a stop at Treasury; and a quick visit to the grocery store.