monday: october 8th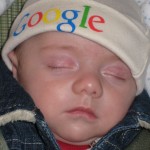 I LOVE THIS LITTLE GUY!
so tomorrow is my first day back to work at my fun job – teaching card-making classes at my local scrapbook store. i'm really looking forward to it. but i'm also not so sure about being away from davey for almost 9 hours! the plan is to drop him off at grandma's house at noon and then i won't see him again until i get home (dave will pick him up from his parents' house after worship team practice) around 8:30 or 9:00 p.m. so if you think of us on tuesday, please pray for me, for davey and for grandma! (she may need to take a drive into bellingham so i can see my wee one!)!
since today was columbus day, i knew there would be some good sales, so after play group carrilee, henry, davey and i took a drive to burlington (about 40 minutes south) to visit the Carters outlet store and the GAP outlet store. i was ultimately seeking some long-sleeve onesies for davey (they're just so hard to find!) and some shirts for myself (shirts that hide my muffin top and my post-baby belly roll). JACKPOT!
(the boys asleep before we're even out of bellingham!)
Carters was having another one of their awesome sales with all kinds of things for $1.99 and 70% off and 50% off. i was pretty good about not buying too much for davey, though there were a few things i HAD to have (like brown camo pants for $1.99!). and then the GAP was having an awesome sale (30% off the already clearanced prices) and i bought about 4 shirts and 2 tank tops for $2 each! seriously a smokin' deal! even carrilee couldn't pass up the price of those tank tops (she also bought some new sweatshirts)!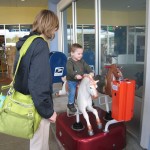 henry even got to ride on the horse around the corner from Carters while i finished up my shopping!
after our shopping adventure we headed to McD's for a (very late) lunch. While feeding Davey, he decided to poop. and before i knew it, he had poop seeping through his onesie. UH OH! it was our first public "blow out" (though it was mild for a blow out). so i had to take him to the bathroom, use the public baby changing station and not only change his diaper, but "wash" him with cold wipes, remove his poopy onesie (it's hard to get those off withOUT getting poop all over OTHER parts of their bodies) and put on a clean outfit (good thing we learned early to ALWAYS have another outfit (or two?) in the diaper bag!
Right now, he's curled up on my chest and lap as I sit on the living room couch and type the entry on my laptop. he slept pretty well today (through the long drives and all that shopping!) but i'm pretty much trying to keep him awake (or at least not sleeping SOUNDLY) until his next feeding (around 10 p.m.) so he'll HOPEFULLY sleep through the night tonight. We've had a rough couple of nights lately (like 4 out of the last 5!) but i think it's because he's going through a growth spurt. all of a sudden, the amount he's eating is all over the place. it's usually 4.0 ounces, but sometimes he's up to 6.0 ounces now and sometimes he only wants 3.5 ounces. i hope we're almost finished with this growth spurt b/c i'm really ready for another night (or twenty!) of good sleep!